The PteroDynamics X-P4 Transwing is revolutionary in vertical takeoff and landing aircraft.
PteroDynamics has distinguished itself as a trailblazing business in the rapidly developing field of aviation technology by pushing the limits of traditional aircraft design. The PteroDynamics X-P4 Transwing stands out among its impressive innovations as a ground-breaking aircraft that combines the qualities of fixed-wing aircraft and helicopters. This article explores the complexities of the X-P4 Transwing, emphasizing its distinctive attributes, possible uses, and the revolutionary developments it makes to the VTOL aircraft industry.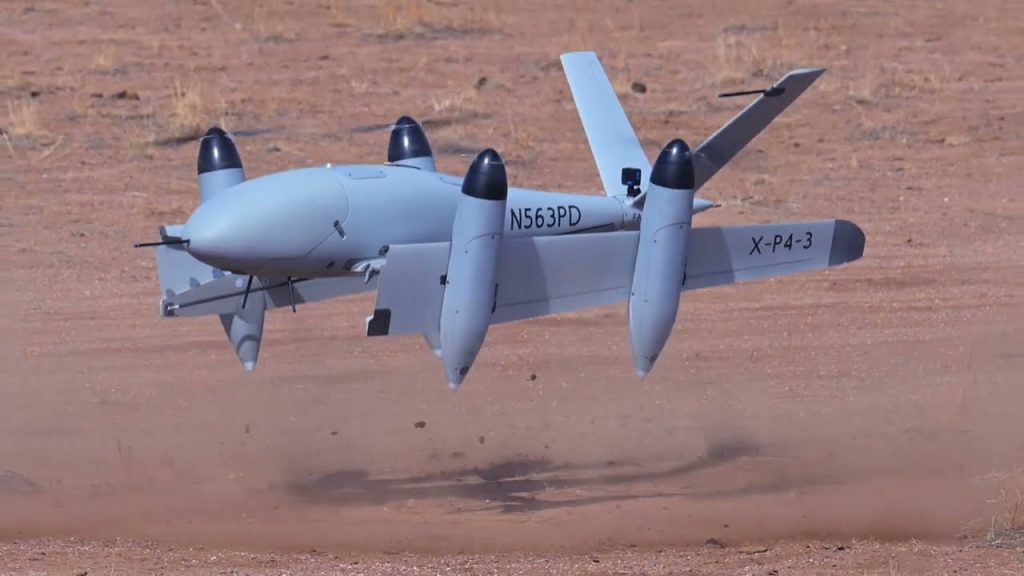 PteroDynamics, an aeronautical engineering firm, set out in 2010 to rethink vertical takeoff and landing aircraft, which resulted in the conception of the Transwing. The main objective was to build a machine that could fly efficiently forward, like an airplane, but also hover and make vertical takeoffs and landings. The X-P4 Transwing was created as a consequence of the dedicated effort of the engineering and aviation professionals on the PteroDynamics team.
The transformational design idea of the X-P4 Transwing, which combines the advantages of fixed-wing and rotorcraft layouts, is at the core of the aircraft. To seamlessly switch between fixed-wing and rotorcraft modes, this ground-breaking aircraft makes use of a set of dynamically adjustable wings that can rotate around their center of gravity. In fixed-wing manner, the Transwing uses its wingspan to create lift, enabling effective and quick forward flying similar to that of a conventional aircraft. In contrast, the wings swivel into a vertical position while the plane is in rotorcraft mode, enabling it to fly like a helicopter while hovering and performing tight-space maneuvers.
Impressive characteristics of the X-P4 Transwing demonstrate its adaptability and potential. It offers significant payload capability for a variety of applications with a maximum takeoff weight of 4,000 pounds. With a maximum range of 500 miles, the aircraft offers increased operating capability for tasks requiring greater distances.
The dynamic wing arrangement improves the aircraft's efficiency while also improving flying performance. The X-P4 Transwing maximizes energy usage, making it a highly effective aircraft for a variety of tasks by utilizing fixed-wing flying for cruising and the rotorcraft mode for vertical operations.
The PteroDynamics X-P4 Transwing's distinctive blend of fixed-wing and rotorcraft capabilities offers up a wide variety of applications across sectors. Here are some examples of its possible uses:
Transporting freight: The Transwing's ability to take off and land vertically eliminates the need for conventional runways and makes it perfect for delivering freight to difficult or distant places. When disaster relief efforts are underway, this capability is especially helpful because access to the impacted areas may be restricted.

Search & Rescue: The Transwing, which has vertical takeoff and landing capabilities, can quickly locate and rescue those in need even in difficult-to-reach terrain. Its increased range enables effective search and rescue operations across wide areas.

Medical Transport: The X-P4 Transwing may function as a reliable air ambulance, enabling the quick and painless transportation of medical staff and patients, especially in locations lacking the necessary infrastructure or in circumstances where time is of the essence.

Military Operations: The Transwing is a great asset in military operations thanks to its adaptable design, which offers a multi-role aircraft that combines the agility and manoeuvrability of a helicopter with the increased range and speed of a fixed-wing aircraft.
The X-P4 Transwing from PteroDynamics is a revolutionary development in VTOL aircraft technology. This cutting-edge aircraft delivers improved efficiency, better adaptability, and extended mission options by fusing the best of fixed-wing and rotorcraft characteristics. It has the potential to fundamentally alter several industries, including military operations, search and rescue, and the transportation of freight.
A stunning advancement in aviation technology, the PteroDynamics X-P4 Transwing revolutionizes vertical takeoff and landing aircraft. Its transformable wings and dual-mode skills provide it tremendous mobility and make it possible for it to fly ahead and operate vertically with ease. Potential uses for Transwing include military operations, medical evacuation, search and rescue, and cargo transportation, among others. The Transwing promises to revolutionize aviation and open up new opportunities in a variety of sectors as PteroDynamics moves closer to certification and commercialization.