The DARPA robot could begin maintaining satellites in 2025
The Mission Robotic Vehicle from SpaceLogistics will serve as the vehicle for DARPA's RSGS payload.
The Defense Advanced Research Projects Agency said on November 8 that a robotic arm it has created has successfully passed crucial tests and is on schedule to be attached to a Northrop Grumman spacecraft next year and launched into geosynchronous Earth orbit in 2024.
According to a news release from DARPA, "the program predicts that on-orbit satellite servicing activities will commence in 2025."
The Robotic Servicing of Geosynchronous Satellites (RSGS) initiative, which DARPA launched in 2017 and built on a decade of study and learning from an experiment in 2007, would achieve that aim with great success.
DARPA wants to use cutting-edge commercial space technologies to check and maintain deteriorating satellites in geostationary orbit. The organization stated that there are "no solutions now available for visual diagnostics, upgrades, or repairs of a malfunctioning satellite's components."
The idea was to collaborate with a company that offered commercial satellite services and have the spacecraft with the payload built. SSL has been chosen by DARPA 2017 as its business partner. Maxar Technologies, the parent company of SSL, withdrew from the alliance in 2019 due to financial concerns. New bids were requested, and DARPA chose SpaceLogistics, a Northrop Grumman subsidiary, as its partner in 2020.
SpaceLogistics' Mission Robotic Vehicle, a 3,000-kilogram spacecraft, serves as the platform for the RSGS payload. Not the entire spacecraft, but the robotic payload components, have been tested by DARPA.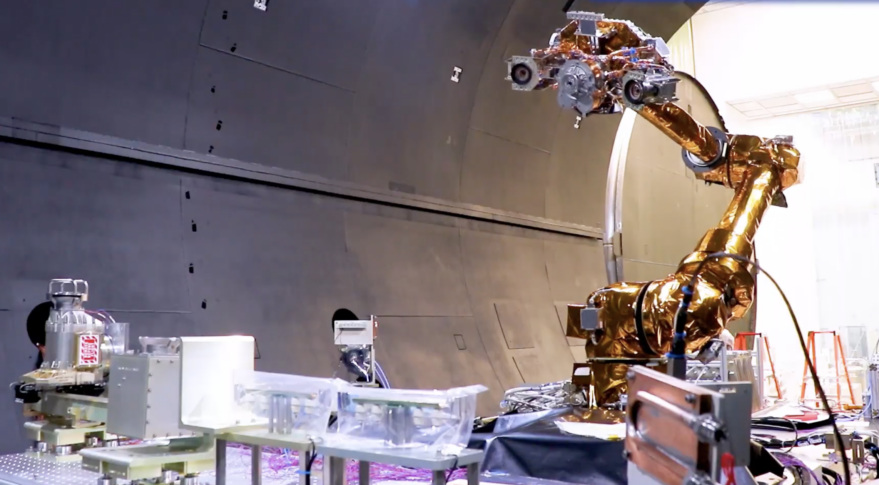 The hardware and software testing for the flying robotic system still has to be finished. Beginning in 2023, the robotic payload will be integrated with the spacecraft bus. After that, the entire system will be tested and verified.
The vehicle will use its electric propulsion to ascend to GEO after launch in 2024.
Ana Saplan, DARPA's RSGS programme manager, stated, "We are aiming to create a persistent operational dexterous robotic capability in geosynchronous Earth orbit." The U.S. Naval Research Laboratory created the robotic arm with help from DARPA funding.
With the help of our robot mechanic, satellites won't end up as space debris because of a damaged component or a shortage of fuel, according to Saplan.
Two robotic arms, many robotic tools, on-orbit checkout and calibration tools, equipment stowage ports, cameras and illumination, and avionics boxes are among the hardware that DARPA will give to SpaceLogistics.
The first assembled arm, according to DARPA, has completed functional, vibration, and electromagnetic testing successfully and is getting ready to start thermal vacuum testing. The second arm is integrating, and this fall at NRL, environmental testing will start.
Optus, the largest satellite operator in Australia, was named as SpaceLogistics' first client for the Mission Robotic Vehicle earlier this year. A 2,000 kilogramme satellite's service life would be increased by six years by installing propulsion jet packs.
At Northrop Grumman's facility in Dulles, Virginia, the MRV and three propulsion jet packs, also known as Mission Extension Pods, are being put together. One of the three pods that launch in 2024 with the MRV will be mounted on an Optus satellite, while the other two are for unidentified customers.